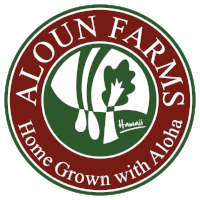 How an Immigrant Family Became Oahu's Biggest Source of Local Produce
As one of the biggest diversified family farms on Oahu, Aloun Farms is no stranger in the eyes of the local community. In fact, over the past four decades, the farm has transformed into a classroom of some sorts, working to educate people of all ages – from keiki to kupuna – about the importance of agriculture in Hawaii.
Aloun Farms got its start when Aloun Sou and his family of six immigrated to Hawaii from Laos after living in a refugee camp. Prior to this, Aloun operated a successful wholesale business that gave him extensive experience in agriculture and grew a passion for cultivating fresh, quality ingredients. Thus, in 1977 when the family found their way to Waianae, Aloun began growing his first crops on five acres of leased land in Lualualei Valley. "When his family migrated to Hawaii, he saw an opportunity in growing Asian vegetables because the market offered very little varieties," said Kae Sou of Aloun Farms. "The first crop he started with was green onion and the farm expanded from there."
With limited proficiency in English, Aloun's four children were encouraged to learn English and apply their skills to the farm's production, marketing and sales initiatives. In 1983, the farm's operations grew large enough that the family began selling directly to Hawaii's major supermarkets. Fast-forward to today and Aloun Farms has swelled their production capabilities to approximately 3,000 acres of productive ag land, encompassing Ewa Plains, Kunia, Waipio and Helemano.
Despite the tremendous amount of work that needs to be done on a daily basis – including harvesting, packing and crop maintenance – Kae explains that the one of the biggest long-term struggles the farm faces is having a sustainable supply of workers. "The majority of our staff are a little older and have years of experience in farming from their native countries. Those with college degrees in agriculture tend to look for research positions in the industry and would rather not do farm work."
So, in efforts to grow this next generation of farmers and educate the community, Aloun Farms hosts a number of family-friendly events throughout the year. Their most popular annual attractions include the Pumpkin Patch Festival, which boasts fall favorites including hayrides, pony rides, farm-style food and interactive games, and the Sweet Onion Culinary Competition & Gala, where local high school teams compete head-to-head to win academic scholarships ranging from $500 up to $2,500.
For more information about Aloun Farms, visit www.alounfarms.com.