Localicious Hawai'i Art and Poetry Calendar Contest
The Localicious Art and Poetry Calendar contest encourages students in grades K-8 to think more consciously about where their food comes from and to celebrate their favorite local foods. The contest is an extension of Localicious Hawai'i, a statewide public awareness campaign throughout March that promotes restaurants that source locally grown, caught or raised products. All proceeds raised from the campaign benefit HAF's K-12 ag education programs through the purchase of a Localicious dish. Since 2014, Localicious Hawai'i has raised over $260,000 for ag education. In the 2019-2020 school year, HAF served over 3,900 K-12 students at 104 public schools statewide.
School Year 2020-21
Localicious Hawaiʻi Art and Poetry Calendar Contest
Presented by Hawaiʻi Gas
The Contest has now closed.  
From November 1-30, 2020, students in grades K-8 were invited to submit entries of an original artwork or poem about their "Favorite Dish Made with a Locally Grown, Caught or Raised Product." The contest inspired children to learn about the local ingredients in their favorite foods and understand how food goes from farm to table.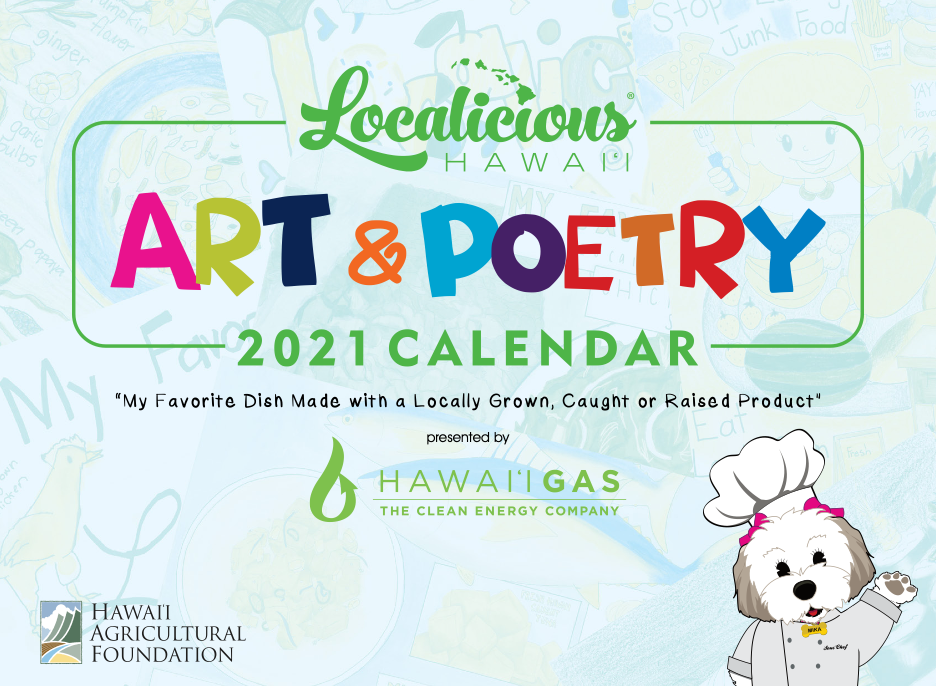 HOW TO ENTER
Design a poster with original artwork OR write a poem around the theme: My Favorite Dish Made with a Locally Grown, Caught or Raised Product.
Artwork should be designed in the landscape (horizontal) position on a white poster board or heavy paper no larger than 8 1/2" x 11". Three-dimensional entries will not be accepted. All poems must include a title, be 150 words or less, typed and printed.
Entry period: November 1 – November 30, 2020. All entries must be postmarked or emailed by November 30, 2020.
ELIGIBILITY

Open to all Hawai'i students in grades K-8; one entry per student permitted. All entrants MUST acquire permission from a parent/guardian prior to submission.
If mailing in your submission, the ENTRY FORM found below MUST be taped to the BACK of the entry. Submit to: Hawai'i Agricultural Foundation, 3538 Waialae Avenue, #203, Honolulu, HI 96816. Entries and the ENTRY FORM can also be emailed as attachments to: liz@hawaiiagfoundation.org.
All submissions MUST be exclusively keiki-created and cannot incorporate anything, in whole or in part, that is owned or created by any third party.
This program is presented by Hawaiʻi Gas