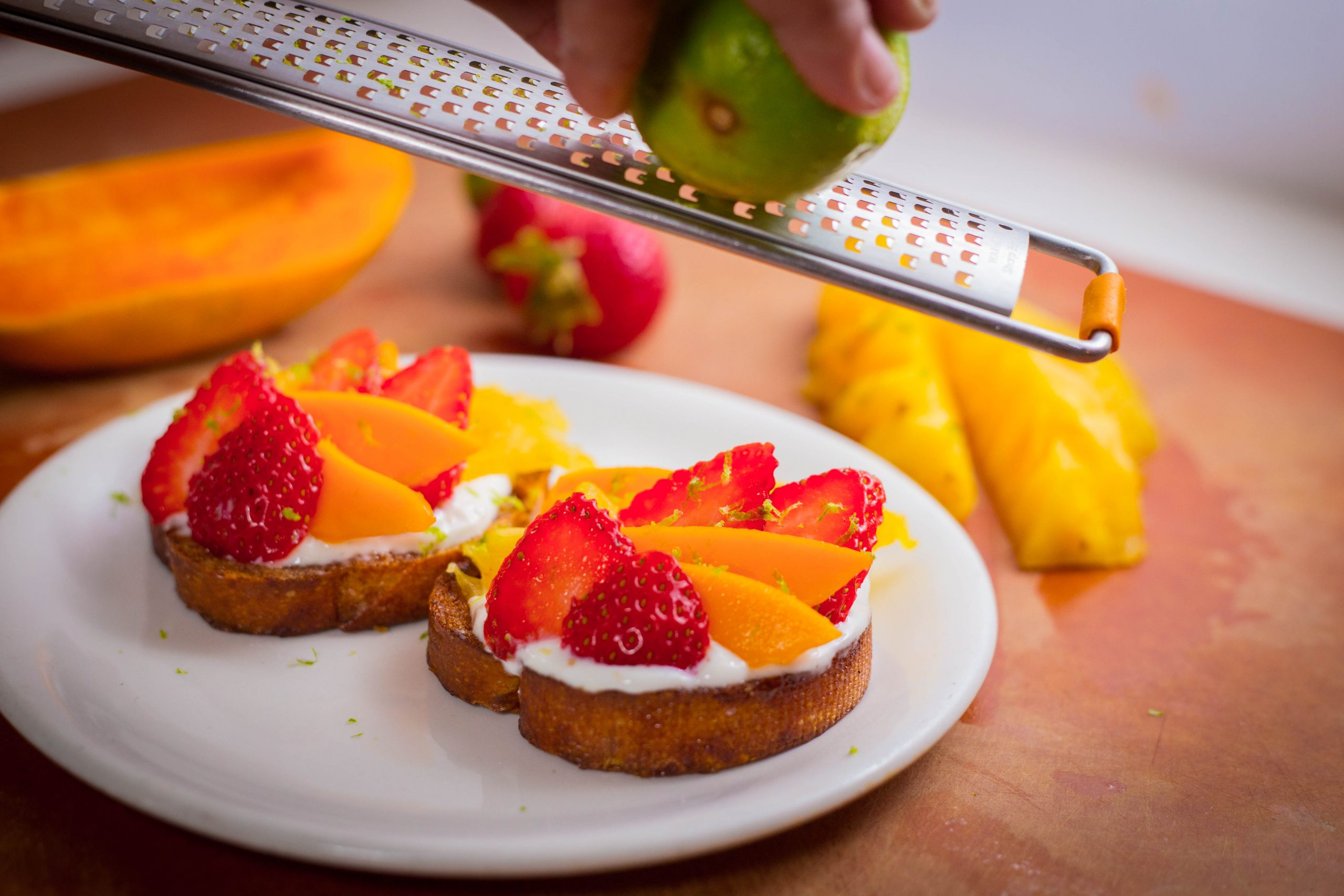 Prep Time:
 15 minutes
Cooking Time: 40 minutes
Number of Servings: 16
Ingredients:
• 16 slices French bread, cut into 1/2″ thick slices
• 8 tbsp. butter softened to room temperature
• 10 tbsp. granulated sugar
• Pinch of salt
• 1/2 tsp. vanilla extract
• 1 cup Greek yogurt, strained overnight in a sieve lined with a paper towel or coffee filter
• 1/4 cup toasted macadamia nuts, chopped small
• 1 tbsp. honey
• 8-12 pieces large strawberries, hulled and sliced 1/8″ thin
• 1/8 wedge of fresh pineapple, sliced 1/8″ thin
• Cleaned papaya and/or mango, sliced 1/8″ thin, 2″ pieces
•Fresh lime
Instructions for Rusk (Make ahead of time):
1. Preheat the oven to 300°F. Combine the softened butter, sugar, salt, and vanilla extract in a bowl or food processor. Mix until well combined.
2. Spread the butter-sugar mixture on both sides of the French bread slices from edge to edge.
3. Bake on a parchment lined baking sheet for 25 minutes. Flip toasted bread and bake for another 15-20 minutes until both sides are golden brown.
4. Cool the bread (now rusk) to room temperature. Keep in an airtight container in a cool dry place. Will keep for up to 4 days. Rusk can be refreshed in a low 300°F oven for 5 minutes if needed.
Instructions:
1. Mix yogurt, macadamia nuts, and honey.
2. Spread the macadamia nut yogurt on the rusk.
3. Layer the sliced fruits on the yogurt. Grate fresh lime zest over the fruit using a microplane. Serve immediately.