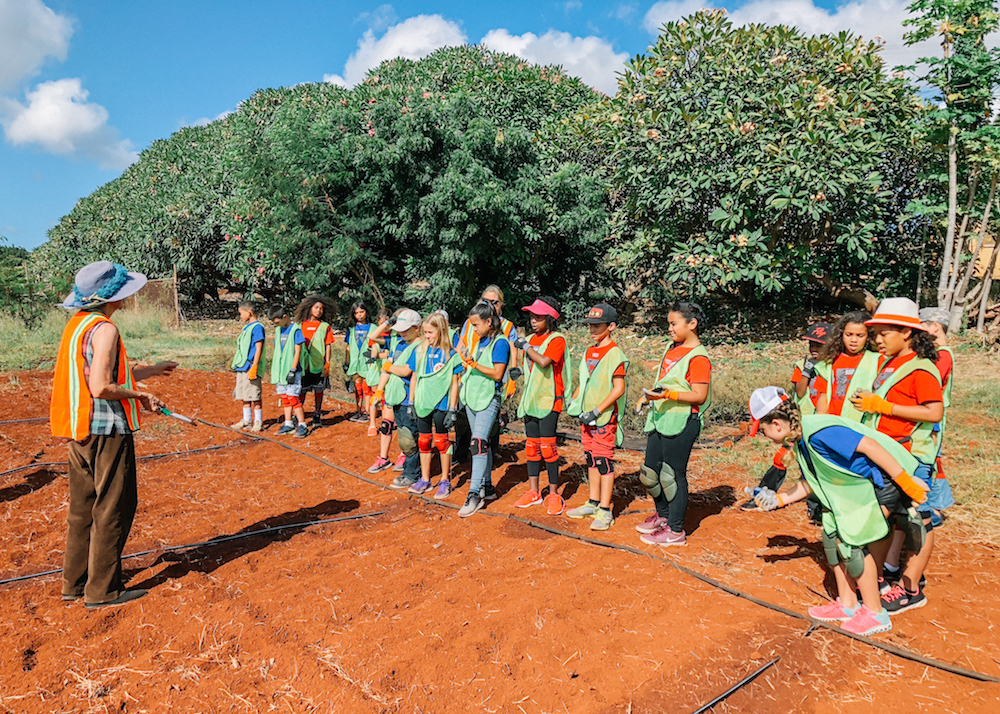 Established in 2014 by James Beard Award-Winning Chef Alan Wong, Veggie U Hawaiʻi aims to inspire young future farmers to pursue an agricultural-related career thus continuing to grow and expand our agricultural industry in Hawaiʻi. The program targets students in grades 3 through grade 5 statewide and currently has over 50 participating teachers in 24 schools statewide.
Veggie U Hawaiʻi is a 5-unit, 25-lesson curriculum that provides students with a seed planting, growing and harvesting experience through hands-on, STEM-focused lessons. Through this program, teachers engage their students with interactive lesson plans pertaining to sustainable farming methods, our local agricultural and making healthy food choices.
Veggie U Hawaiʻi – Upcoming Teacher Trainings
Trainings are offered in partnership with HIDOE.  Teachers must register through the PDE3 portal. Space is limited!
Upcoming Dates: 
Saturday, August 19, 2023
Wednesday, October 11, 2023
Saturday, February 10, 2024
Location:  Hawaii Agriculture Research Center (HARC), 94-340 Kunia Rd in Kunia
Time:  9:30 am – 2:30 pm
Participants will receive the Veggie U curriculum, a grow light, plant pans, microscopes, and a list of other materials to purchase (e.g., soil and seeds). HAF will reimburse participants for their purchases up to $100.00. In addition, teachers who complete the curriculum with their students are eligible for a HAF sponsored field trip to an agricultural site.
Veggie U Hawaiʻi program
The following is a summary of the Veggie U Hawaiʻi program:
Veggie U is a 5 unit, 25-lesson, hands-on curriculum that was developed in the state of Ohio that provides students with a seed-planting-growing-harvesting experience through rigorous lessons that encompass science, health, math, reading, writing and social studies.  The Veggie U program introduces students to the vital role agriculture plays in our daily lives.
Ms. Pescaia, Grade 4 Kailua Elementary
The students were very excited to begin something new, especially knowing they would become "mini" farmers. Most students know that vegetables are healthy, but more than half do not eat them regularly.
Kailua Elementary
Ms. Pescaia, Grade 4
Ms. Brown, Grade 4, Kailua Elementary
I was pleasantly surprised that many of my students were open to the idea of trying new vegetables and pretty much consumed vegetables on a regular basis.
Kailua Elementary
Ms. Brown, Grade 4
Ms. Miyashiro, Grade 4, Wilcox Elementary
The children enjoyed tasting various vegetables. They completed their journal entry describing their experiences and especially loved creating their own unique vegetables…students are loving Veggie U activities!
Wilcox Elementary
Ms. Miyashiro, Grade 4
Ms. Baldridge, Grade 4, Kihei Charter School
Many students learned new names of veggies along with trying new food. Some students realized that they had never tried that kind of veggie raw, while others shared times they had eaten that veggie before!
Kihei Charter School
Ms. Baldridge, Grade 4
Anonymous, 4th Grade Teacher
We are loving the program. We have a very large school garden. The kids are starting seeds in the room then moving them out to the garden as they grow. They are also working on a school fundraiser where they will be selling their plant starts. It has really been great!!!
Anonymous
4th Grade Teacher
Bring Ag Education to Your Classroom
If you're interested in bringing this program to your classroom at no charge to you or your school, fill out the form below:
Support HAF
Contributions go directly to supporting local farmers, ag education and outreach programs.