EAT THINK DRINK
Join the #ONOREVOLUTION
Good things happen when we collectively gather to EAT THINK DRINK! We learn, share and are inspired by the thoughtful conversations that happen over the dining table. The Hawaiʻi Agricultural Foundation (HAF) invites the public to EAT THINK DRINK presented by Hawaiian Airlines, a quarterly series created to bring diverse communities together to find common ground on issues of agriculture and food in our state.
Episode 6: Scaling Up Small Farm To Big Farm
November 8 • 6-9 PM
ʻAlohilani Resort Waikiki Beach
Robust local food systems offer social, environmental and economic benefits. To meet the demand for locally grown food, local food systems need to be scaled up from farmer-direct sales of small quantities of product to wholesale transactions. By scaling up, food systems are able to utilize the efficiencies of the industrial food system while retaining local environmental and social priorities such as sustainable agricultural practices and profitability for small- and mid-scale family farms and businesses. On Thursday, November 8, 2018 at 'Alohilani Resort Waikiki Beach, EAT THINK DRINK will explore the systems that facilitate the scalability of locally grown food.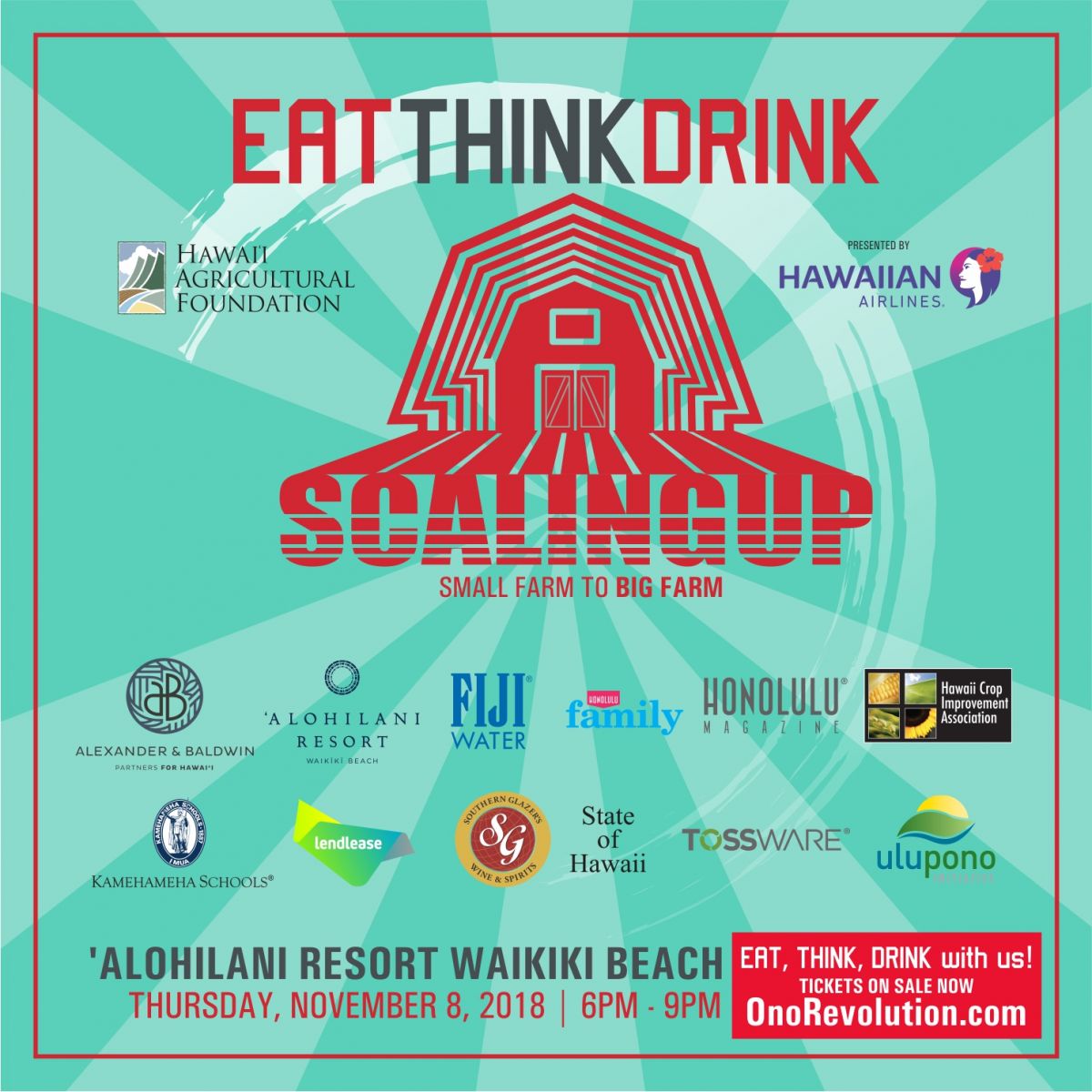 KEYNOTE SPEAKER
Eric Pond, co-owner of Greenleaf Farm Management LLC in Oregon, will share his expertise honed over a 25-year career in the agricultural industry in the Pacific Northwest. Before joining Greenleaf, a farm management services company, Mr. Pond was with Equilibrium Capital Group LLC in Portland where he served as the developer of the firm's permanent crop strategy which focused on investing in permanent cropland and synergistic midstream assets to create vertically integrated, sustainable farming enterprises.
FEATURED PANELISTS
Fred Lau, Mari's Gardens; Dana Shapiro, Hawaiʻi ʻUlu Co-Op; Janel Yamamoto, GoFarm Hawai'i
MODERATOR
Kamuela Enos, MAʻO Organic Farms
EAT THINK DRINK will conclude with five chefs showcasing a menu created with local ingredients, plus wine and beer from the open bar stocked by Southern Glazer's Wine & Spirits and FIJI Water.
FEATURED CHEFS
ʻAlohilani Resort Waikiki Beach executive chef David Lukela, 12th Ave Grill executive chef Jason Schoonover, La Tour Café chef Chris Gee, Poke Stop owner and executive chef Elmer Guzman,
Support HAF
Contributions go directly to supporting local farmers, ag education and outreach programs.
Subscribe
Sign up with your email address to receive news and updates.