Episode 16:
SCHOOL LUNCH 2.0
Location: Prince Waikiki
Thursday, January 13, 2022
5:30-8:30pm
The State of Hawai'i, Department of Education (HIDOE) is the single largest purchaser of food instate, spending approximately $45 million on food annually, most of which is processed, frozen and canned. If a portion of that was spent on local agriculture, it would give farmers a huge and consistent market, helping to move the needle on our efforts toward greater sustainability. In addition, this past legislature, House Bill 767 was enacted and established a goal that at least 30% of all food served in public schools should consist of locally sourced products by 2030.
In 2017, HAF hosted EAT THINK DRINK, School Lunch: Hawai'i's Farm to School Initiative and brought thought leaders together to talk about the possibilities of increasing local produce in our public school cafeterias. We heard from Chef Ann Cooper on how she has been working with local school systems across the country on changing the way we prepare school lunch for our students. We also heard from others like Chef Greg Christian on how he has worked on changing the kitchens in the Kohala Complex Area–teaching cafeteria workers how to cook and changing their attitudes and those of the students. School Lunch 2.0 will look the progress that has been made since then. Is the HIDOE on the same track or arethere new initiatives in the farm to school movement. Are some of our school cafeterias serving fresh local produce, meats, and/or fish to our students? Have we made progress on procurement, food safety, workforce and attitudes in the cafeteria?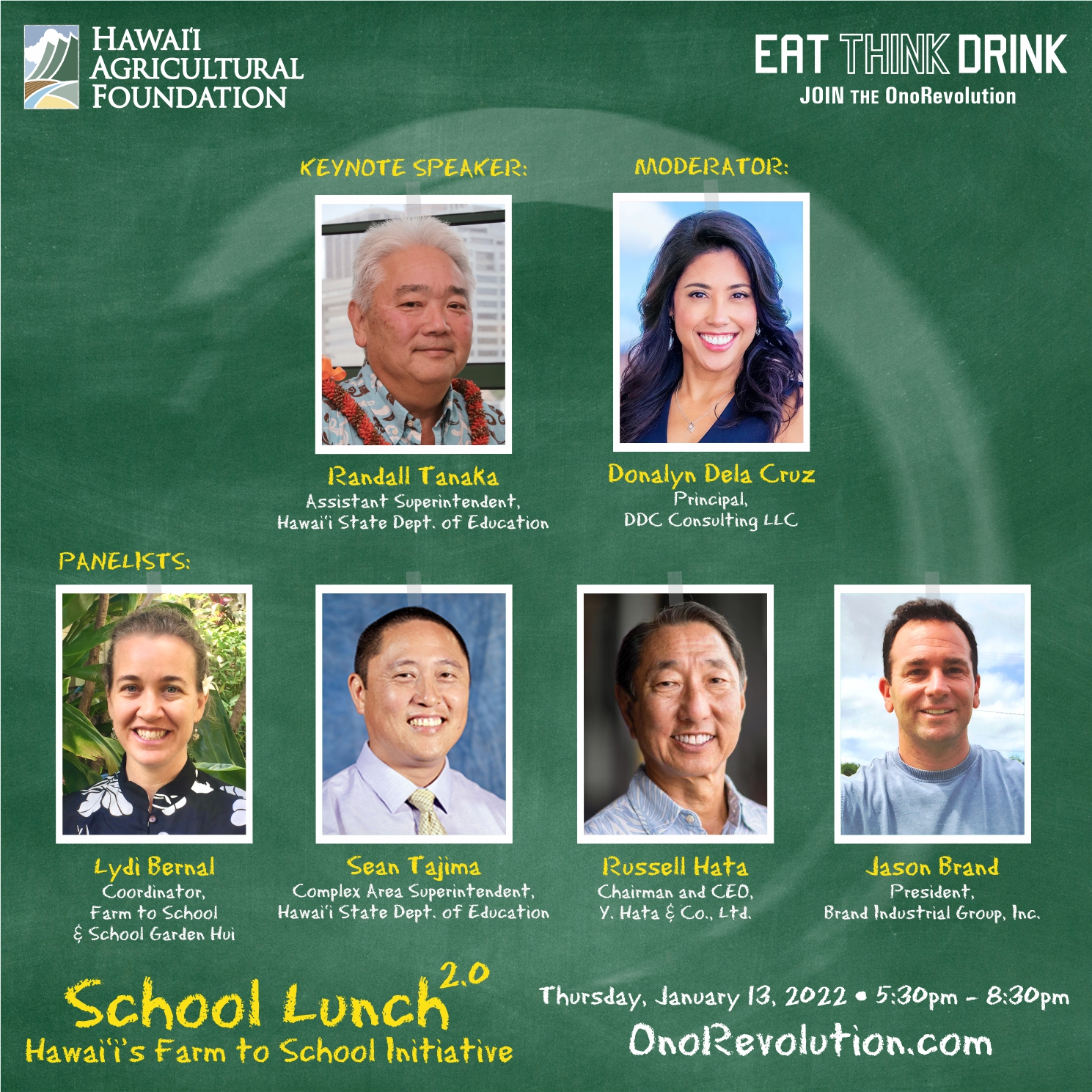 Randall Tanaka, assistant superintendent from the HIDOE will share his keynote presentation that will be followed by a panel discussion on how Hawai'i's farm to school initiatives have changed since 2017. The panel discussion will be moderated by Donalyn Dela Cruz from DDC Consulting LLC and feature:
          • Lydi Bernal, Coordinator, Hawai'i Farm to School & School Garden Hui
          • Jason Brand, President, Brand Industrial Group Inc.
          • Russell Hata, Chairman and CEO, Y. Hata & Co., Ltd.
          • Sean Tajima, Campbell-Kapolei Complex Area Superintendent, HIDOE
Support HAF
Contributions go directly to supporting local farmers, ag education and outreach programs.