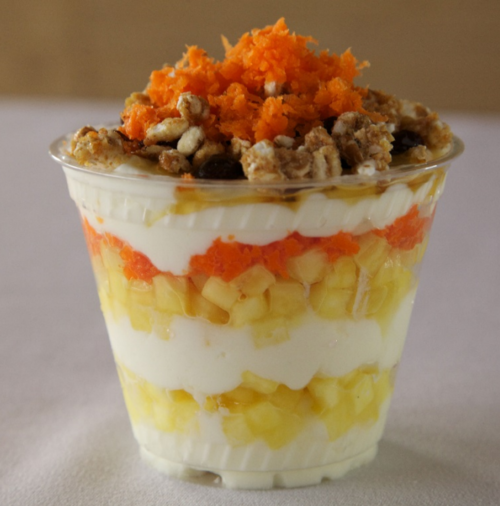 Ingredient
6-oz. Low-fat vanilla yogurt
2 T. Grated carrot (about 1/3 whole carrot)
2 T. Small diced fresh pineapple, (or canned crushed pineapple, drained)
1 T. Granola
1 T. Raisins
1 tsp. Honey
Dash of cinnamon
Instructions
Spoon 1/3 of the yogurt into an 8-oz. cup.
Sprinkle carrots over yogurt.
Cover with another 1/3 of the yogurt.
Top with pineapple and remaining yogurt.
Garnish with nuts or raisins, a drizzle of honey, and a dash of cinnamon.
Notes
Kapiʻolani Community College Culinary Arts Program.  Cooking Up A Rainbow. The Hawaii 5210 Edition 1.0.