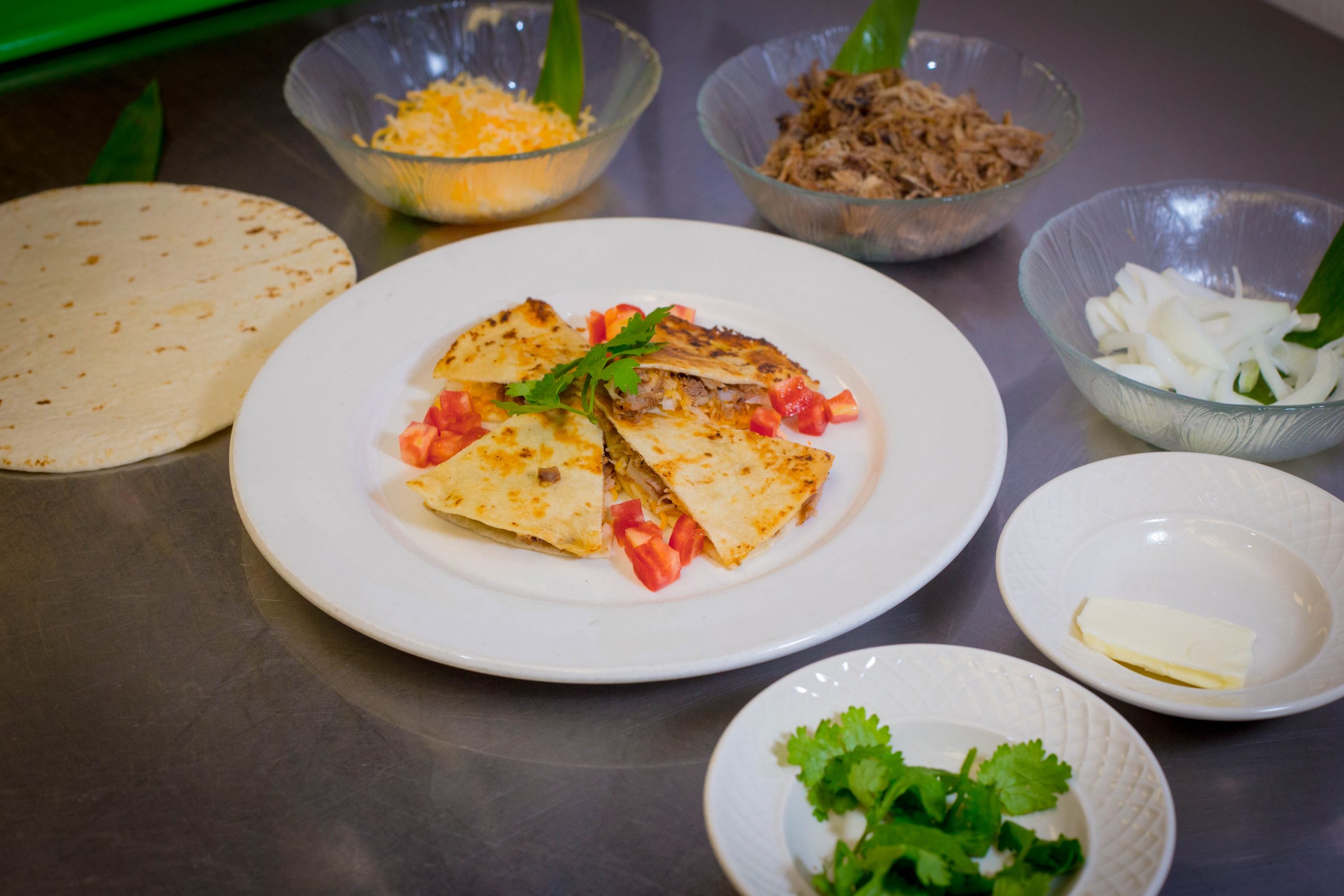 Prep Time: 15 minutes
Cook Time: 10 minutes
Serves: 4
Ingredients:
• 2 tsp. olive oil
• 1 onion, julienne and caramelized
• 12 oz. kalua pig
• 1 1/2 cups Monterey or cheddar cheese, grated
• 4 flour tortillas (10 or 12 inch)
• 1/4 cup clarified butter (ghee)
Avocado Cream (Make ahead of time)
• 1 avocado, ripe
• 1/2 cup whipping cream, whipped to a soft peak
• 1 tbsp. lime juice
Puree avocado and cream in blender or food processor until smooth. Slowly drizzle in lime juice.
Season with salt and black pepper.
Pico de Gallo (Make ahead of time)
• 2 vine ripened tomato, diced in small cubes
• 1/4 cup sweet onion finely diced
• 1 or 2 jalapenos (dependent on how spicy you like your sauce), finely diced
• 2 tbsp. cilantro, chopped
• 1 tbsp. lime juice
• Salt to taste
Combine all ingredients together. It is best when allowed to sit for at least 2 hours.
Instructions:
1. In a skillet over medium heat, add olive oil and cook onions until caramelized. Add kalua pork and cook until meat is heated.
2. Divide cheese into 4 portions and place 1/2 of one portion on half of the tortilla. Layer the kalua pork and onion mixture over the cheese.
3. Top with remaining portion of the cheese and fold in half. Press to adhere.
4. In a separate skillet, over medium-low heat, melt the clarified butter and add the quesadilla.
5. When tortilla is golden brown, flip over and brown other side.
6. Remove from pan and drizzle avocado cream over with pico de gallo on the side.