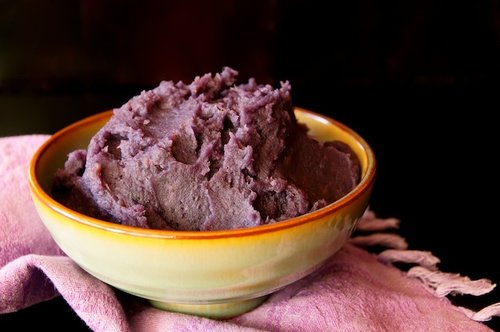 Ingredient
1-1/2- pounds Okinawan sweet potatoes
2-1/2 tablespoons unsalted butter
1/4 cup half and half
1-1/4 teaspoons sea salt
freshly ground black pepper to taste
Instructions
Fill a medium-sized stock pot with cold water.

Peel the potatoes and cut them into large chunks (approximately 2 to 3-inch chunks). Add them to the pot with the water as you go.

Place the pot over high heat and bring to a boil. Reduce to low and simmer, uncovered, until the potatoes are tender (they should easily slide off fork prongs), about 15 minutes.

Strain the potatoes and place them in a medium to large mixing bowl. Use a large fork or potato masher to purée them.

Add the butter as soon as possible so that it melts into the hot potatoes. Then add the half and half, salt and pepper, and mix only until everything is incorporated.