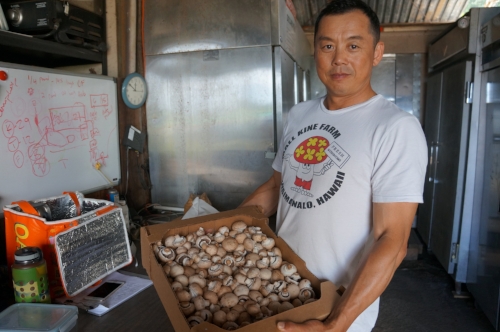 Meet the Fung guy behind Small Kine Farms:
How one grower has transformed others' waste into a portabella empire
Green takes a whole new meaning at Small Kine Farm, Oʻahu's only organic mushroom farm that has developed a profitable business by living religiously by the three R's: reduce, reuse, recycle.
Nestled along the winding backroads of Waimānalo, Small Kine Farm grows portabella mushrooms by taking carbon-packed organic waste – think food scraps, wood pallets, scratch paper, garden weeds and lawn clippings – and brewing it into nutrient-rich, heat-pasteurized compost. From there, owner Fung Yang is able to create the ideal environment for his portabellas and maintain a circular production model that results in zero waste.
"In a nutshell, you can call us…an organic waste recycler," Yang said. "We process about 100 tons of organic waste from local tree trimmers and turn them into organic, 100 percent natural plant fertilizer and also USDA organic mushrooms for the community."
Yang wasn't always a mushroom whisperer. Prior to opening Small Kine Farm, Yang owned and operated a recycling business called Oahu Community Recycling, where he spent over a year diverting aluminum cans, glass bottles, paper and other recyclable goods away from Hawaiʻi's congested landfills. However, Yang began to notice overtime that his clients were tossing more organic waste into their bins than recycled goods.
"I realized that more than 60 percent of what was being thrown away was organic waste," said Yang, who was determined to find a solution. "I believe the best way to learn is from nature. From Mother Earth, I learned that the best way to deal with such a large amount of organic waste is to compost it. From there, I decided to start my own composting facility."
After seven years of research and trial-and-error, Small Kine Farm was able to grow its infrastructure and produce thousands of pounds of local mushrooms every month using its high-quality compost. The growing process is certainly no easy feat and involves heavy manual labor, constant monitoring and a high risk of crop failure. Yang shared that for even one mushroom to grow, he must wait approximately 60 days.
Despite the odds, Yang is proud of his operation and his ability to transform waste into a high-value product. Small Kine Farm reaches the consumer's plate by selling their organic mushrooms to local restaurants, grocery stores and community supported agriculture (CSA) programs like the Hawaii Agricultural Foundation's Local Inside.
To Yang and his team, eating local and supporting community farmers is less of a trend and more of a responsibility. "When the customer buys local, they are looking at the quality of the product rather than the quantity… They are more concerned about their own wellbeing as well as the wellbeing of the community, the island and the planet. When they buy local, it means a lot to us…because we know they care."
For more information on Small Kine Farm, visit www.smallkinefarm.com.